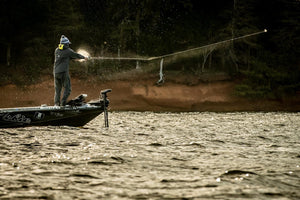 Rod Features
Balance Tuned
Special attention has been paid to the fishing application of each rod, and the balance required during each lure retrieve. This improves sensitivity and makes the rigours of a long day on the water as easy as possible – don't miss that bite on the last cast through fatigue!
Comfort Grip
These rods come to hand easily and comfortably, with each model fitted with handle parts only where and as they are needed… The result is a rod that's light in the hand with further enhanced sensitivity, and this allows you to forget the rod and focus on the fishing!
Sensitivity +
Fuji skeleton seats and minimal handle designs mean it's almost impossible to hold one of these rods for lure retrieval without your hand contacting the blank – and this helps deliver valuable feed-back that these amazing blanks provide for every inch of the retrieve!
Rod Features
Swing Time
You've steered the bass alongside, and now you can use that momentum to swing it in the boat! When there's no time –or allowance– for using a landing net, swing the bass on-board using the 'Swing Grip' – a true innovation from Jocumsen and Miller!*
*When swinging fish on board, the rod should not be over-loaded with a high rod angle. As fish get larger, the rod angle during the swing needs to be lowered.
LRP
Each rod in the range has been fine-tuned to its specific performance criteria. Jocumsen is an expert in Long-Range Presentations, and his criteria demands these rods fire off a cast to a distance that has the fish unaware of your presence and ready to bite!
Unique Transitions
Unique Millerods blank actions deliver the smoothest of transitions between casting, lure retrieve and fish-fighting. This means user-friendly use and extreme sensitivity, as well as imparting control through every phase of rod use without loss of power transmission.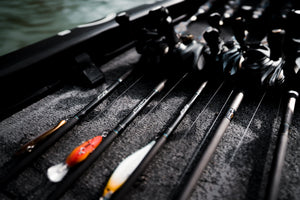 Custom Blend
Our custom blanks are made from blended graphite materials which are selected by assessing the application, action and power requirements for each and every rod. This results in a 'freestyle' approach for blank designing, allowing every rod to have its own unique character, and it's own amazing high performance without loss of robustness. All the while still confirming to the strict Millerods philosophy of lightness, balance and sensitivity!
Subscribe to our newsletter
Promotions, new products and sales. Directly to your inbox.